RESPECTIVE BRANCHES ROLES AND RESPONSIBILITIES
Policy and Aid Coordination Branch
Forest Land Use and Monitoring Branch
Forest Planning Branch
Remote Sensing (RS) and GIS Branch
Donor Funded Projects
POLICY & AID CORDINATION BRANCH
The Branch is responsible in;
Monitoring the effect of forest policies and, and link forest policies with other sectoral policies as well as international trends & development.
Coordination and management of donor funded projects. Identify suitable donors from bilateral and multilateral sources and negotiate on the best possible terms of development assistance, relevant to the forestry sector.
New Policy initiatives: National Strategies for Reforestation and Afforestation in Papua New Guinea and National Strategies for Downstream Processing of Forest Produce in Papua New Guinea (endorsed by NEC in 2020 and launched in 2021)
The published report – State of the Forestry Sector in PNG (launched in 2021)
Review of the Forestry Act which will be finalized
PNG Timber Legality Standard (PNG TLS)- to be piloted by the International Certification Body; - to dispel international perception and enable sector monitoring. Supported by USAID-LGP
TLS will complement the Decision Support System (DSS)
Timber Legality Verification System (TLVS)- currently in consultation with USAID – LGP to fund the development of this system
Currently, coordinating the ACIAR, ITTO projects and very soon the new JICA and ACIAR Projects (3rd phase project)
FOREST LAND USE AND MONITORING BRANCH
The Branch is responsible in the
Management and updating of the forest, land use (remote sensing and field verification-NFI) and climate change (mitigation and adaptation) information.
Forestry and Climate Change Framework for Action (2009-2015)
Updating of the information on the forest, land use, land use change and forestry (LULUCF)
The LULUCF information has been used as PNG's commitment to the UNFCCC (collaboration with the CCDA; focal point)– The National REDD+ Strategy, The Forest Reference Level (FRL), the National Forest Monitoring System (NFMS-NFI component), the National Determined Contribution and the Biennial Update Report (BUR)
First report of the Forest and Land Use Change in PNG (2000-2015) which was launched in 2019, Currently, the second report is in the drafting stage and publication is planned in March-April 2022
Coordinating the Multipurpose National Forest Inventory (NFI)
On-going activity to the NFI
166 plots completed (42 clusters) for 7 provinces
Continuous collaboration with CCDA on the work on REDD+ and adaptation
FOREST PLANNING BRANCH
The Branch is responsible in the overall planning and identification of potential forest areas for industrial wood purposes including other potential uses of forest for the development of the National Forest Plan (NFP) and the Provincial Forest Plans (PFPs). It is also responsible in the coordination of the forest inventories for potential forest areas as well taking stock of the available forest resources logged over forests.
The PNG FRIMS plays an important role in the planning process, especially in updating of the NFP and the PFPs
Established the Revised Guidelines for the PFPs which was trialed in 3 pilot provinces (Madang, ENB, WNB Provinces)
Review of the NFP and all PFPs then will undergo consultation
Planning and preparations of post inventory of logged over areas and the Expired Timber Rights Permits (TRPs) to determine if there are sufficient resources to be reacquired under the Forest Management Agreement (FMA).
Planning and preparations to continue to conduct and complete the National Forest Inventory (NFI) for the remaining provinces
REMOTE SENSING (RS) & GIS BRANCH
The Branch is responsible in the management of providing mapping needs of PNGFA as priority and secondly its clients and also maintaining and updating a fully operational GIS and Remote Sensing facility.
Digitize forest maps; companies provide analogue copy of maps especially in the updating of the forest working plans (FWPs)
Development of the first forest cover/basemap 2012 & 2015 (one of the outcomes of the first JICA project)
The published documents of the two (2) big books launched in 2019 (one of the outcomes of the second JICA project): PNG FRIMS and PNG Forest Base-Map and Atlas
Updating of the information/data on the Forest Resource Information Management System (FRIMS)
Updating of the Forest Cover Maps from 2015 to 2020
Use of drones in capturing the latest images for the natural forest and forest plantations
Overview of the PNG-FRIMS
FRIMS stands for Forest Resource Information Management System.
FRIMS is GIS database responsible for acquiring and managing "spatial information /data" on forests.
This aims to support PNGFA decision making.
FRIMS can display various spatial information on maps with attributes which can be overlaid to compare relativeness of the information and data.
FRIMS also has the functions estimating commercial timber volume, projecting land use change and sharing information with PNGFA Head office staffs.
DONOR FUNDED PROJECTS
The directorate has been responsible in the management of the donor funded projects:
Japan International Cooperation Agency (JICA)

- Two projects that have successful been completed and the third phase project will commence this year

International Tropical Timber Organization (ITTO)

- The organization has a long collaboration with PNGFA has been for a good number of projects: 2 projects

European Union (EU)

- The EU has supported PNGFA in the implementation of PNG's first multipurpose NFI- ended

Australian Centre for International Agricultural Research (ACIAR)

- has been supporting in the research component and community-based projects -1 project and third phase project (commencement TBD)
SUMMARY OF DONOR FUNDED PROJECTS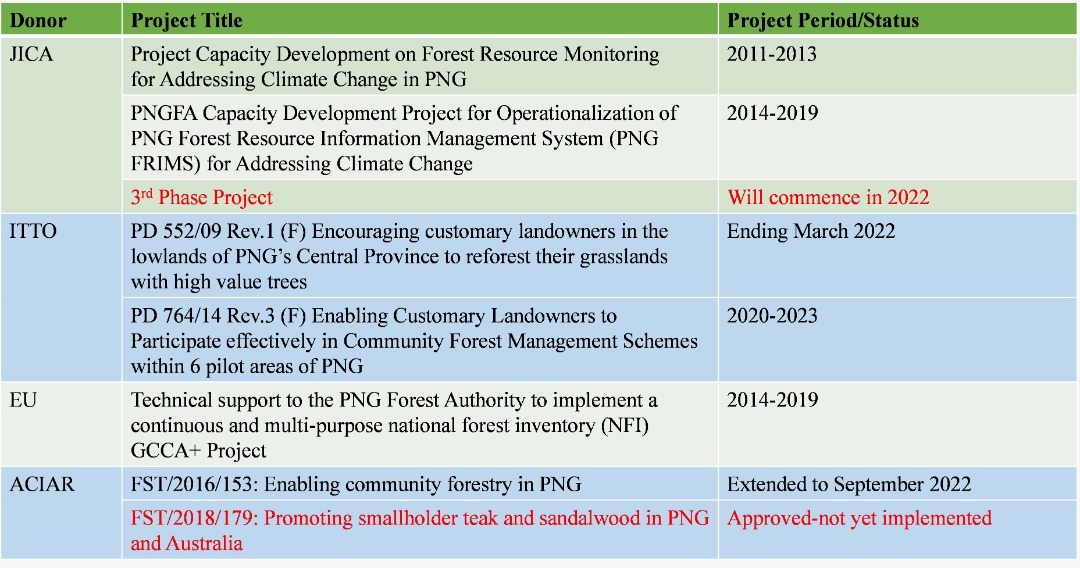 SUMMARY OF DONOR FUNDED PROJECTS (PAST PROJECTS)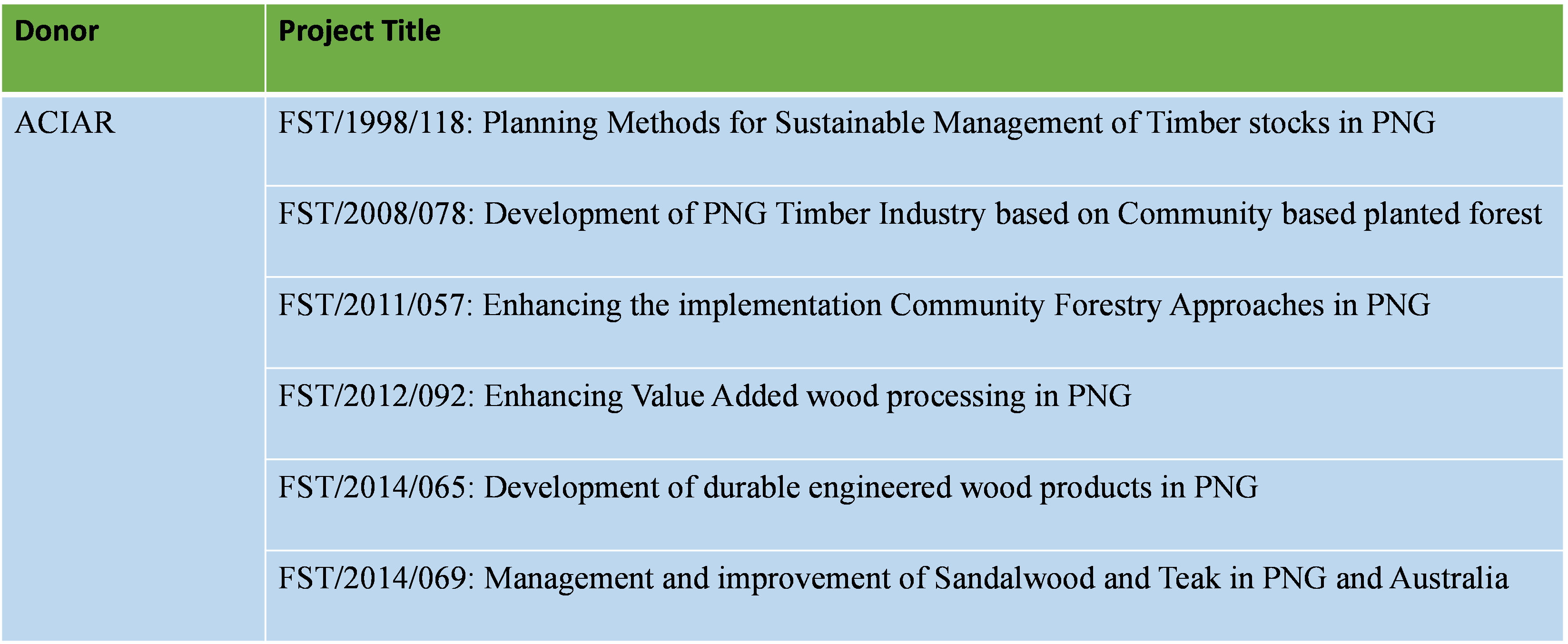 SUMMARY
Monitoring the Effect of forest policy and linking with other sectoral policies & legislative reviews
Review the PFP and NFP to take into account trend & development
Monitoring Land Use Changes and prepare climate change requirements/ reports
Forest resources inventory
Management of FRIMs and providing forest mapping requirements
Coordinate, implement & monitoring and evaluation projects funded by donor organizations and governments.
Donor projects complements domestic efforts in implementing government policies